Welcome to the PDST JCSP website
Since 2010, the JCSP Support Service has been an integral part of the Professional Development Service for Teachers (PDST). The Team Leader is Pat Coffey. PDST offers a variety of models and supports for JCSP Co-ordinators and schools. Please see below for relevant links:
Calendar of CPD for JCSP Co-ordinators and teachers

here

.

To book a place using the PDST online booking portal, please click

here

.

(Information here)

Application for various models of school based and telephone support can be applied for at this

link




In order to support JCSP Coordinators and schools, we have compiled a list of FAQs available at this

link
For any other queries, please contact jcsp@pdst.ie
JCSP Library Project WRaPParound 2017 - Click here to register! Click here to view informational video.
Competition: Take the 50 Word Story Challenge and enter the latest JCSP competition! Closing date is the 16th of December. Entries should be emailed to jcsp@pdst.ie. We look forward to hearing from you.
English statements: We are delighted to be able to let you have the first of the new JC English statements: Please click here to view
Initiatives: Awards letters and funds have now been issued - please order the associated resources (see here for Recommended Material) use this form to order JCSP Resources for Initiatives

Profiling 2017: New round now open and Student Master Record Cards available to order - please mail jcsp@pdst.ie with your details (School, Roll, number of cards required).
Coordinators please complete the 2016/2017 Update of School Records Form
Material Resources Order Form available to download as PDF or Excel
Statement family listings are now available to download on the Coordinators page here
Stories for the Classroom is a wonderful classroom resource for 1st year students written by Paddy Kirwan of Our Lady of Mercy, Mourne Road, Drimnagh. It is designed to be used in the classroom on the whiteboard. There are 33 stories, one per week with exercises at the end of each story.

Did you know that the novel IN PIECES is available free of charge to all JCSP students? It can also be purchased at this link: In Pieces
The JCSP Demonstration Library Project Charter is available here: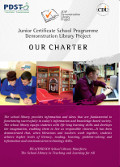 Click on the Videos button on the right hand side of this screen to see

JCSP

in action in schools.
Created: September 29, 2005 19:59, Last Updated: January 18, 2017 12:01.